Hire a freelancer to reskin, rebrand, customize codecanyon ios, android app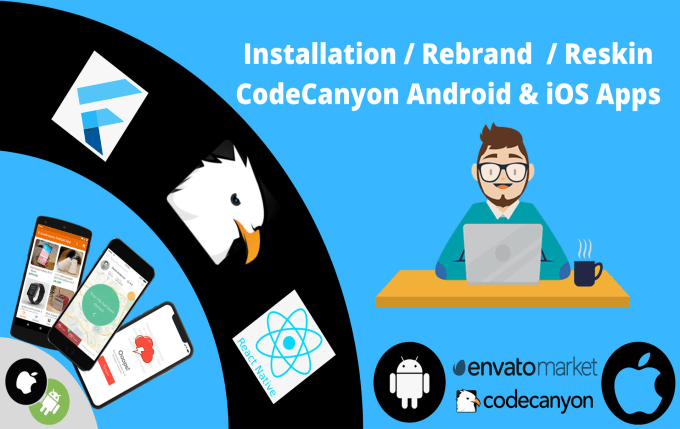 Description
>Contact Before Ordering<
If you bought a codecanyon android app, ios app, flutter app, react native, xamarin app or game and looking for someone to setup, install, reskin or rebrand the app then this gig for you
I am able to:
Rebrand app (Change app name, package name etc)
Reskin app (change logo, colors, icons, splash screen, etc)
and any customization you want in your codecanyon project
So, let's install, configure and reskin your CodeCanyon Android app together and get it live on the store
Basic:
Rename app
Change logo
Change colors
Change Admob id
Change package name
Change splash screen
Generate a signed apk, abb or ipa
Standard:
Basic GIG + Web admin panel setup + ↓
Admin Panel (Web Script) Installation on the server including database setup
Change any image/logo or branding
Premium:
Basic + Standard GIG + ↓
Setup Social login like Facebook, Google, etc
Configure Google Map API or other API
Configure payment gateway
Requirements:
Codecanyon app Script (Source code)
Hosting Cpanel username, password to setup web Script (For Standard and Premium gig)
Logo, icons and splash screen
Purchase code (If required)
Note:
For Android, ios, flutter, react native, xamarin apps
Service Rating – 5/5.0 (89)
About the Freelancer
Short Description – Enthusiast Mobile Apps Developer

Freelancer Rating – 5/5.0 (285)
Hi there,
Glad to see you on my profile. I am "Sajeeb" working on Mobile application development for the past few years. Mainly, I am an expert on Flutter and Java android. Besides that, I can do small jobs like Installation, customization, modification, etc.
I can be hired to develop and customize your mobile apps according to your requirements.
I am capable of working with Rest API, Cloud DB, JSON, Google Map, Firebase, user authentication, and much more essential components as well.
See you on your project.