Hire a freelancer to send the meal planner spreadsheet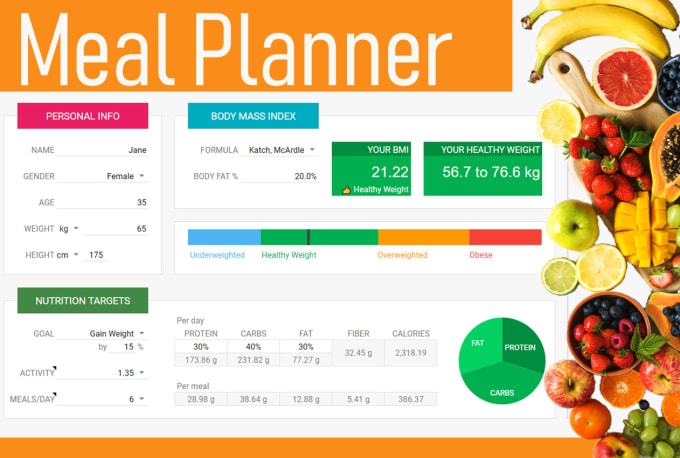 Description
Hey Trainer!
Early sessions, 5-8 coffees per day… Can I cure all your pains? – No. Can I help some of them? – Yes, and let me tell you how.
Having built planners for fitness facilities, I know what is a really user-friendly spreadsheet.
Isn't meal planning a hidden time killer in your 15h working day? If you don't mind planning meals TIMES FASTER and WAY BETTER, read on.
Meal Planner designed for Fitness Trainers. Preview:http://bit.ly/35F9x5K
BMI & Nutrition Targets calculator
Food database (>1,800 items)
Add foods and recipes
7-day meal plan
Automated shopping list
Use for the unlimited number of clients
"OMG!!!! This Meal Planner does everything I couldn't get from ANY app. Now I make meal plans 4X faster – TOP PRODUCT!!" – Jeff, a certified personal trainer.
I'm Serhii Kovchenko, a Google Sheets expert who created training and nutrition spreadsheets for dozens of personal trainers and fitness facilities.
Slap 'Order' button to get the Meal Planner within 24h. Other trainers are saving their time with it right now!
BONUS: Meal Planner already has 10 free universal recipes and 5 weekly meal
plans.
Have any questions? – Check the FAQ below or hit me up with a message.
Service Rating – 5/5.0 (72)
About the Freelancer
Short Description – Dashboards and Automation in Excel, Google Sheets, Data Studio,PowerBI

Freelancer Rating – 5/5.0 (1,059)
⭐ Over 500 businesses and 1k clients worldwide enjoy their automated reports thanks to my help (Including EY, Kaiser+Kraft, NENT group, TDK, UNICEF). And so can you. —>✅ Excel | Google Sheets | Data Studio | Power BI: • Dashboards & Visualization
• Financial Modeling
• Data Analysis, Reporting & Automation. —>✅ Experience:
• Automated spreadsheets at Deloitte for over 2 years,
• managed financial reporting at a fast-growing commercial bank, • M.B.A degree, • financial and audit business certifications.
Best,
Serhii Kovchenko