Hire a freelancer to setup, migrate office 365, outlook, exchange, no downtime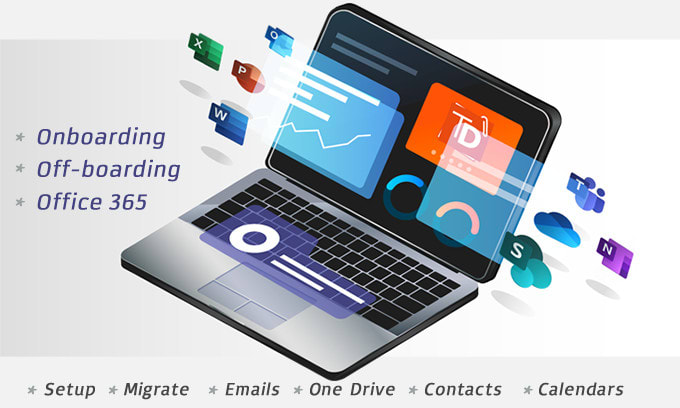 Description
Whether you're setting up your business email afresh with Office 365, or you're moving on from a previous email provider, or maybe, you're done with Microsoft 365 entirely, and need to move on, I'm here to help you.
What I can do for you:
———————–
✔️ Office 365/Microsoft Exchange registration and setup
✔️ Create business email accounts and sub-accounts/aliases 
✔️ Seamless Email, Contacts, Calendars migration
✔️ Conduct domain verification  
✔️ Prevent spam delivery with email authentication(SPF, DKIM, DMARC)
✔️ One Drive and Google Drive migration
✔️ O365 migration to or fro Gmail, Rackspace, Zoho, CPanel, IMAP, etc
✔️ Set up secondary domain and domain aliases 
✔️ Set up and update DNS records: SPF, DKIM, DMARC, TXT, MX, etc
✔️ Configure email forwarding
✔️ Configure mail filtering to a particular folder
✔️ Configure email clients like Outlook, Mailbird
✔️ Configuring DNS Records (TXT records, MX records, SPF, DKIM)
✔️ Setting up SharePoint Online and managing permissions
✔️ OneDrive for Business 
✔️ Configuring Security and Compliance 
My guarantee:
————–
100% security of your information
100% customer satisfaction
Service Rating – 5/5.0 (61)
About the Freelancer
Short Description – Your challenge, my solution, 247, round the clock

Freelancer Rating – 5/5.0 (544)
My name is Chris, and I'm your go-to guy for everyday business email fixes, configurations, and general email migration.
I specialize in the setup, troubleshooting, and migration of Google Workspace(formerly G Suite), Office 365, iCloud, Godaddy, Gmail, Outlook, Zoho Mail, Yahoo Small Business (now Verizon Small Business Essentials), Yandex, Proton Mail, and many other IMAP and POP based webmail solutions, with over ten years worth of experience.
I have a keen interest in the online success stories of entrepreneurs, especially young startups. Come, let's fix that together.