Hire a freelancer to setup or fix a, cname, dns, mx, txt, dkim, spf, dmarc record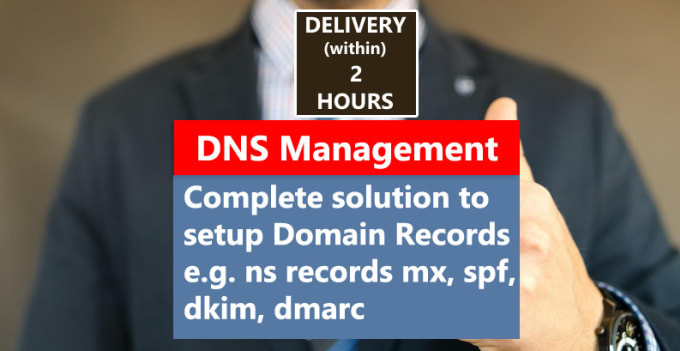 Description
About This Gig
I am provding DNS setup, Email setup, Deliverability and Integration, Domain and DNS technical support in this Gig
I will setup or fix the following services on this GIG:
DNS record
Nameserver
A record
CNAME
MX record
TXT record
Email configuration on cPanel or 3rd party solution like Google, Office365
Spam/Junk prevention by setting up SPF record
Stop email bounce by adding DKIM
Domain emails authentication using DMARC built upon SPF and DKIM
Domain/Hosting providers
Godaddy
Namecheap
hostnet
Domain
Bluehost
Amazone Services
Gsuite and many more
In 24hrs, I will do any Domain DNS related services not limited to :
Verification
Name server Setup
Setup Cloudflare
Forwarding and redirection
Install and Setup SSL
Setup secondary domains
Configure and Fix DNS issues
Configure DNS records (MX, TXT, CNAME, A, e.t.c)
Email setup and troubleshooting: G Suite, Office365, Webmail, Website Mails 
Improve mail inbox delivery: SPF, DKIM, and DMARC
Connect domain to any website: Wix, Shopify, WordPress, Squarespace, Cpanel
Domain authentication: Mailchimp, Sendgrid, Sendinblue, ActiveCampaign 
Kindly message me before placing an order.
Service Rating – 5/5.0 (292)
About the Freelancer
Short Description – Full Stack Web developer and IT Expert

Freelancer Rating – 5/5.0 (366)
I am the web developer specializing in high quality web development. From custom theme designs to E-Commerce, Custom PHP and WP custom plugin development, I will transform your personal or business concept into a successful website.