Hire a freelancer to teach you daws, recording, mixing and mastering in reaper, cubase or pro tools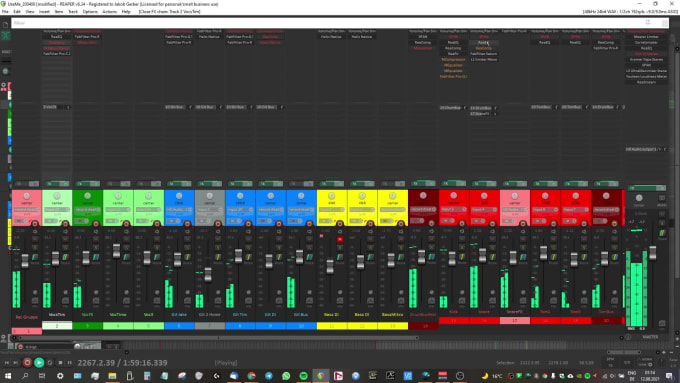 Description
I teach DAWs and overall Music Production over the course of your booked time. I also teach Audioengineers via Zoom on a regular basis.
I use Reaper, Pro Tools and Cubase for my jobs, so I can offer these environments.
I studied Audioengineering, and I'm working in the music business (mostly music but also other audio), so we can totally go into depth if you're looking for advanced stuff, but of course I can also show you all things from the beginning. Regularly I teach 2x60min as a block, on a given day every 2 weeks. This is most efficient for most of my students. 😉
Gain staging, Clean Recording, Tracking
MIDI and Virtual Instruments
Basic Mixing like Volume, Pan, EQ, Compressor, Limiter
Advanced Mixing with Mulitbandcompressors, De-essers, Transient-Shapers, Noise-Gates, Noise Removal
Advanced Editing like Audio to MIDI triggering, Autocrossfades, Automations, etc.
Mastering. From Basic to Pro. Limiting, Loudness, Reference Mixing, Saturation
Plugins (countless different ones)
I look forward to working and having fun together 😉
*Located CEST-Zone (Berlin time)
*The lessons are binding, and if the student doesn't show up to the meeting, the time is still used up.
Service Rating – 5/5.0 (21)
About the Freelancer
Short Description – Audioengineering and Audiovisual Services

Freelancer Rating – 4.9/5.0 (132)
—–Welcome to JayJay Studios :)—————-
I'm (Jake) a fulltime Audioengineer and Musician from Augsburg/Munich, and I love working in the Multimedia field.
———————————
I'm (Johan) a fulltime Videoproducer and Photographer working primarily in the Audiovisual field.
———————————————
Jake has various degrees, including Audioengineering.
He has 14+ years of experience in the Audio- and Audiovisual-field. We are looking forward to working with you!