Hire a freelancer to write amazing website sales copy for your product or service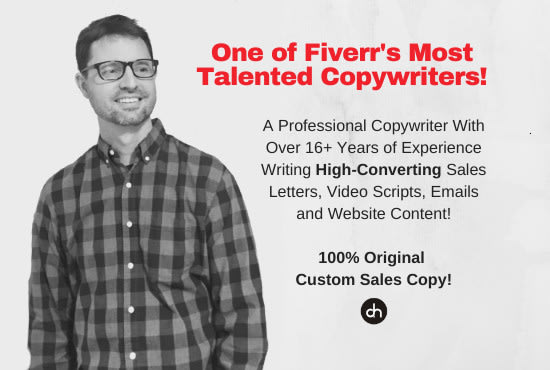 Description
👉 CONTACT ME FOR A QUOTE BEFORE ORDERING
One of The Most Trusted Professional Copywriters on Fiverr – With Over 2500+ 5-Star Reviews!
I'll write high-converting sales copy and website content for your product or service that'll get you results.
I've been a successful Internet Marketer and a seasoned copywriter for nearly two decades and have sold MILLIONS OF DOLLARS ONLINE in all types of markets.
My specialty is writing sales letters, landing pages, video scripts, about pages, solo ads and promo emails.
Unsure how many words to order? Here are my recommendations…
✅ Landing Pages/Sales Letters (750-2500+ Words)
✅ Promo Emails/Solo Ads (300 Words)
✅ About Pages (300-450 Words)
✅ Video Sales Letters/Video Scripts (125 Words/Minute)
💡 Long copy has been proven to outsell shorter copy. Order my gig extras to ensure that you get powerful web sales copy that'll sell your products or services like hotcakes!
💡 Remember: If you don't invest in great copy, you WON'T make sales. Hire a cheap copywriter, and you'll get poor sales copy and zero results.
👉 I Don't Write For: Real Estate/Law/Insurance/Amazon/Industrial/IT/Finance/Crypto/Brochures
Service Rating – 5/5.0 (2,511)
About the Freelancer
Short Description – I Write The Words That Make You Money

Freelancer Rating – 5/5.0 (2,571)
Copywriting Expert. Online Entrepreneur. Highly Talented Writer. Born & Raised in the USA!
I'm a creative thinker, skilled marketer and a talented copywriter who turns words into sales. I've studied legendary copywriters including Ogilvy, Schwartz, Sugarman and Halbert.
I have over a decade of marketing experience and a proven track record of selling over 7-figures in numerous niches online alone.
OFFICE HOURS: Monday through Friday, 9am to 5pm CST.