Hire a freelancer to write legal motions, complaints and lawsuits for your case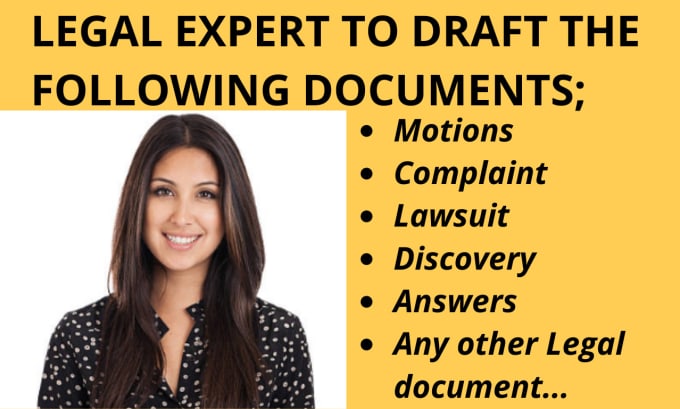 Description
*Paralegal with extensive legal research experience; including LexisNexis and Westlaw.
*Paralegal with extensive legal writing experience (Federal & State) including but not limited
to:
– Contracts
– Memorandum of Law
– Writs of Mandamus
– Original Petitions
– Original Complaints and Amended Complaints
– Successful Responses in Opposition to Motions to Sever/Bifurcate
– Motions for Sanctions
– Request for Admissions
– Motions to Quash and for Protective Order
– Motions to Compel
– Motions for Summary Judgment
– Motions to Dismiss
 DISCLAIMER: I cannot provide legal representation
Service Rating – 5/5.0 (5)
About the Freelancer
Short Description – Your Online Legal Expert

Freelancer Rating – 4.9/5.0 (80)
I've been a lawyer for years. I'm an excellent writer, so I can help draft/review contracts and briefs. Additionally, I can give general legal advice on a number of topics.